Construct a New Fire Station (86)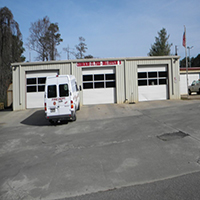 The existing Ball Ground Fire Station is a facility owned by the City, but leased to Cherokee County for use as a fire station.
The facility is a metal building and faces many challenges, primarily concerning the ability to house fire fighters in their living quarters. Grading issues around the building frequently allows storm water to enter the building, primarily in the living quarters.
The SPLOST referendum voted on in 2010, and upon which collections will begin in 2012, have set aside $250,000 local SPLOST dollars to be matched with $1,500,000 in County SPLOST dollars to construct a new fire station.
Although a location for the facility has not yet be secured, options could include the current Community Building location, City owned property on Church Street near the Baptist Church, and property on Old Dawsonville Road near the sewer lift station on the north end of Calvin Farmer Park.
SCHEDULED FOR 2016