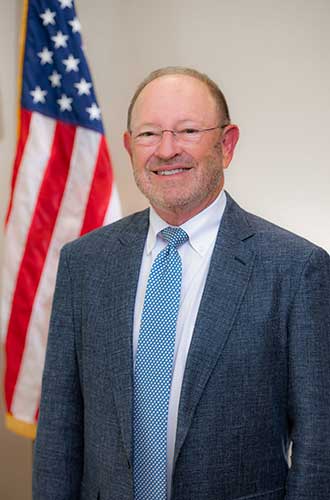 Mayor:  A. R. (Rick) Roberts, III
Rick Roberts has been Mayor of Ball Ground since 1988, with a break in term between 1993 and early 1996. Mayor Roberts was an organizer of Cherokee Bank, N.A. in Canton, GA and a Board Member and EVP/Chief Financial Officer for the bank from 1999 until 2014.  He is currently retired from banking.
Prior to that, he spent twenty years with Citizens Bank, Cherokee County, in various capacities, the last six years as Executive Vice President.
A Georgia native and lifelong resident, Roberts attended University of Georgia (BS-1976) and Georgia State University (MBA Program). He is married to Elaine Fraser, and they have two adult sons.
Memberships & Affiliations
Mayor of Ball Ground – 1988-1993, 1996-present
President, Cherokee Municipal Association, 1998-2001, 2006-2016
Member of the Cherokee County Municipal Planning Commission, 1987-2000
Board Member, Cherokee County Development Authority, 2000-present
Ball Ground STEM Academy Advisory Council Member, 1998-present
Metropolitan North Georgia Water Planning District Board – 2001-2004 & 2008-2010
Graduate of the Atlanta Regional Commission's Regional Leadership Institute, 1997
Served as Vice Chair of Cherokee Recreation and Parks Authority, 1994-2000
Member of the Reinhardt University Board of Trustees since 2009
Charter Class member of Leadership Cherokee 1988
Board member Cherokee County Chamber of Commerce 1996-2000
Member Rotary Club of Canton 1990-1997
Board member Atlanta Regional Commission (ARC) 2006-2007; 2016-Present
Awarded Certificate of Recognition  from Georgia Municipal Training Institute/Carl Vincent Institute of Government 2006,  Certificate of Achievement 2009, and Certificate of Excellence 2017.
Georgia Municipal Association Board of Directors 2008-2010, 2014-present
Inducted into the Georgia Municipal Association Hall of Fame 2009(48th inductee)
Metro Atlanta Mayors Association Executive Committee 2006-2010; 2016 – Present
GMA Legislative Policy Committee 2010-2012