Truck Route:
The route shown below has been selected by the Georgia Department of Transportation for the Ball Ground Truck Bypass.  Please click the image for more detail.  As it stands currently, the State does not plan to allocate funding for this project until 2030 but the City will continue to work closely with County and State officials in hopes of expediting this timeline. For more information on this project, please see the full study linked below this image or contact City Hall.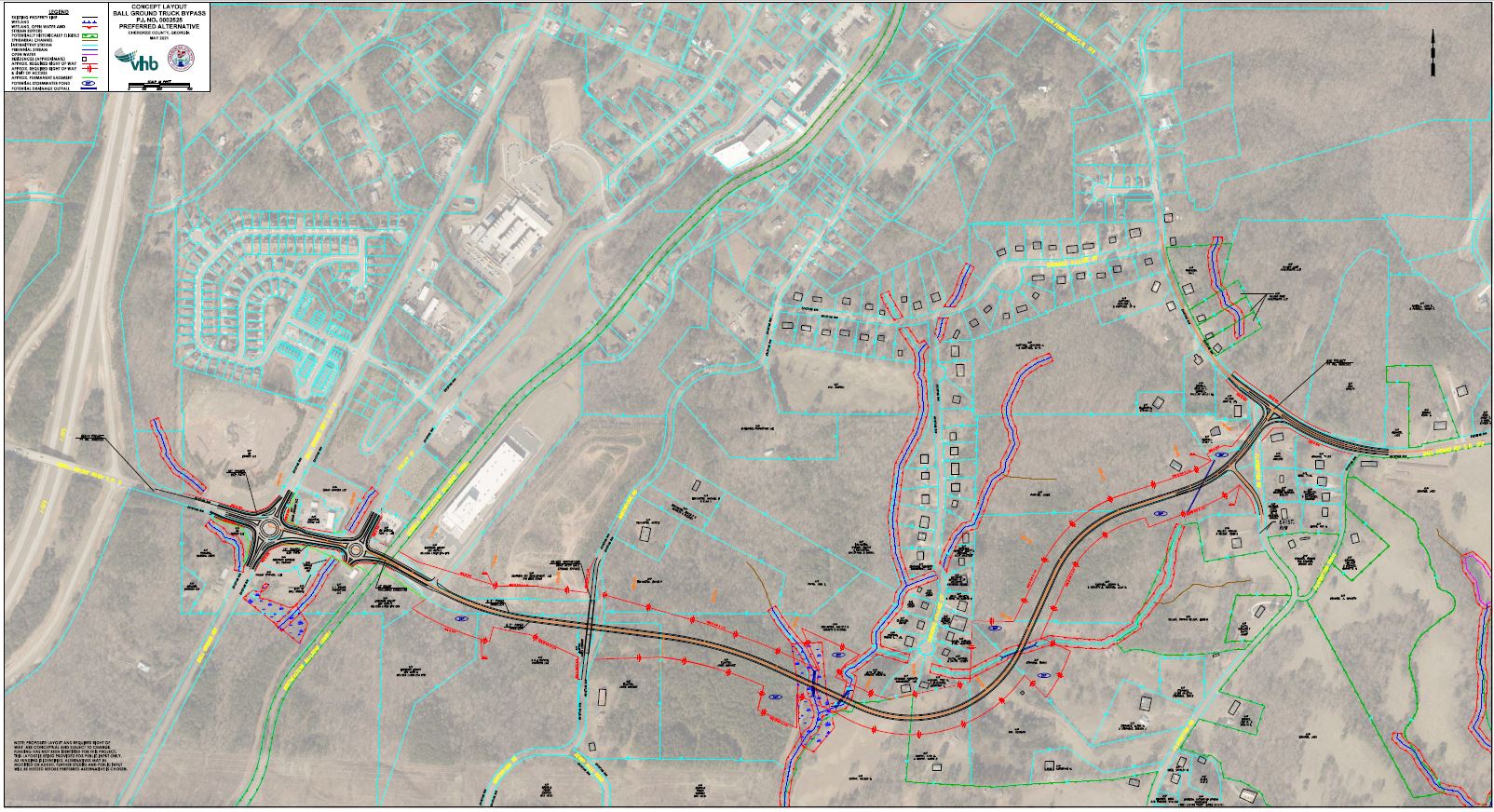 Old Dawsonville Road Traffic Impact Study:
A&R Engineering has performed a traffic impact study for Old Dawsonville Road, focusing on the Farmer's Crossing development currently under construction and the proposed Fitts Property subdivision across the street. This study presents the analysis of the existing and future conditions of Old Dawsonville Road, Groover Street, and William Court. It also assesses impacts to the transportation system brought on by these two developments before making recommendations for alleviating any burdens placed on the roadway by these projects.
Click HERE for the study.
Frequently Asked Questions:
Question:  How much roadway does the City maintain?
Answer: The City of Ball Ground is currently responsible for 18.19 center line miles of roadway.
Question:  Why doesn't the City do more to repair Gilmer Ferry Road and A. W. Roberts Drive downtown?
Answer:  These are not city streets.  These two streets are part of Georgia State Route 372.  Both roads were originally constructed by the City of Ball Ground as local streets.  In the 1970s the State took both of these streets from the City and deemed them as State Highway.  Now, extensive truck traffic operates on these roads that were never constructed with that purpose in mind.  We continue to work with the State and other agencies in an effort to re-route truck traffic so that repairs on these roadways will last.
Question:  I live in a subdivision.  Who takes care of my streets?
Answer:  When a developer constructs a subdivision, the roads, water lines and sewer lines are considered "private property".  Once everything is constructed to standard and the subdivision is 80% complete, the developer can ask the City to take over this infrastructure for future maintenance.  The request is presented to Mayor and Council and they vote on whether or not to accept the infrastructure.  Some developers have not asked for the roads to be accepted.  If they do not ask the City to take them, and then subsequently deed them to the City, these roads are considered private and are not eligible for taxpayer dollars to be spent on them.